Joujuu Senjin!! Mushibugyo 3DS is a new upcoming game for the Nintendo 3DS that is coming on September 19,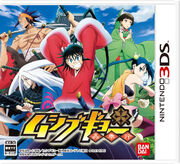 2013 in Japan. The game is an Action RPG featuring all of the mushibugyo members as a playable characters.
Development
Edit
The game was announced and being made by Namco Bandai Games on June, 2013, that a videogame adaptation of Mushibugyo is in development for the Nintendo 3DS.
The game will follow the story of the Mushibugyo and going through the event they been thought.
This is the first Mushibugyo game series.